The ministries of the Landmark Baptist Church have an outreach starting in our Sunday School classes here in Haltom City and extend around the world. Below is a little info on the works of each of these ministries.
Mission Ministries Supported by LBC: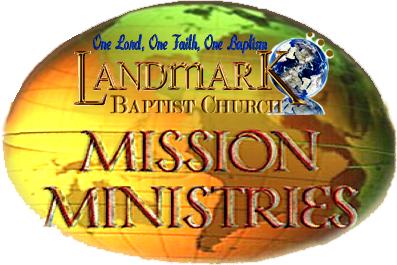 Landmark Baptist Church Mission Ministries start here at the church and reach out to our city and then neighboring cities and countries around the world (Matthew 28:19, 20).
The material in Preaching and Teaching Resources was prepared for expository preaching or teaching in our Seminary. Each is available for free download.
Landmark Baptist Theology Seminary has a large outreach that extends to 176 Seminary Extensions in 41 countries around the world, including the USA. If you are interested in a Christian education, please follow the link to the Landmark Baptist Theological Seminary and check out what LBTS has to offer you.
Then there is Landmark Mission Projects (L.A.M.P.) . They strive to continue reaching and teaching Christians all around the World. L.A.M.P. is a local Church Ministry that is dedicated to training national pastors and missionaries around the world.
Click on the links on this page for each of the ministries to learn more about each one.