Spreading the Gospel in Malawi and Mozambique
(Click on photo to see larger size)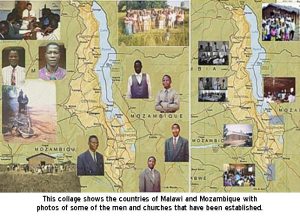 The Malawi Mission work began in 1998 when Dr. Jimmy Nelson and Dr. Young Houston traveled to Malawi to meet with Brother Edward Mawase. Brother Mwase wanted our aide in starting churches and train men in the ministry for the purpose of spreading the Gospel throughout Malawi and Central Africa. We found him to be very doctrinally sound, and before returning home had the great honor and privilege of ordaining Pastor Edward Mwase and organized the Landmark Bread of Life Baptist Church in Ntaja by the authority of Landmark Baptist Church of Fort Worth.
Brother Mwase began his work by bringing in lay pastors to Ntaja and training them using the Video Bible Courses provided by L.A.M.P. Dr. Mwase was training the second group of students – Brothers Billy, Factory, Nkhoma, and Gremu for the Lord's work. Unfortunately, Dr. Mwase became ill and died rather suddenly. But because he had trained men in the Gospel, his ministry continues today.
Pastor Sindi and Pastor Makhusa continued Dr. Mwase's work in Malawi and trained other men to do the same. Men like Pastor Fernando Gremu, Pastor Butaoh and Pastor Mozarand.
Today there are 17 full time pastor/missionaries evangelizing, planting churches, grounding those churches in the faith, and training the lay pastor in each church. In addition they are training men for the work of the Lord through the Seminary Extensions.
Today these pastor/missionaries are establishing churches in Malawi and Mozambique. Pastor Fernando Gremu lives and works in the town of Mpapaya Mozambique. Pastor Gremu is the pastor of the church there and is also the Director of the Seminary extension in Mozambique. He has 7 other mission churches. In 2005 Pastor Butaoh and Pastor Mozarand graduated from the Seminary Extension in Nsanje. Pastor Butaoh is the pastor of the Chikwawa Landmark Baptist church in Malawi and has eight mission churches. He wants to start a Seminary Extension in Effilewawa to train the men from this area. Pastor Mozarand is the pastor at Postal Shire Landmark Baptist church and has 4 mission churches.
At the last reporting there were 76 established churches. However, there are several preaching points that these men visit on a regular basis that have not been organized into a local church at the present time.
For updated information click on links below to read the latest Prayer Letter for the Malawi Missions and current Photos of the mission. It not only has the latest news and photos on the progress the Missionaries are making for God's Kingdom, but also list the current needs to aide these Missionaries in the work they do.
To read the updated Prayer Letter, click below:
To learn more about the Malawi Missionaries and Pastors, click on the individual name below and the link will direct you to their page and more information about each Missionary and their families and the works they do.
Click links below to go to individual missionary pages:
Group Photo of the Malawi and Mozambique Pastors