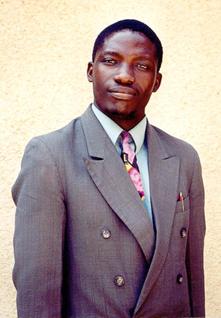 Reaching Malawi, Mozambique, and Central Africa
with the Gospel of Jesus Christ.
In July the Landmark Baptist Theological Seminary Extension in Malawi conducted it's first graduation service. Mr. Mwase, Mr. Jones Makhusa, Mr. Dick Sindi were the first graduates. During their time at Seminary all three men surrendered to full time mission work. After graduation they were ordained and sent fourth by the Bread of Life Landmark Baptist Church at Ntaja. However, a short time later Brother Mwale became very ill and went to be with the Lord. In July of 2002 Dr. Mwase also died and went home on July 24th.
Dr. Makhusa stayed in the Nsanje District in South Malawi. He is establishing preaching points and working with the existing churches in both Malawi and Mozambique. Brother Makhusa is also the Director of the Landmark Baptist Theological Seminary Extension in Nsanje. He has graduated two pastors and is training four more.
The Landmark Baptist Church and Seminary of Nsanje have purchased land built a building that houses the Seminary classrooms and offices as well as serve as the church building.
God is greatly blessing the work in Malawi. 65 new churches have been started in Malawi and Mozambique. Please pray for these men, the students, and the churches in Malawi and Mozambique.